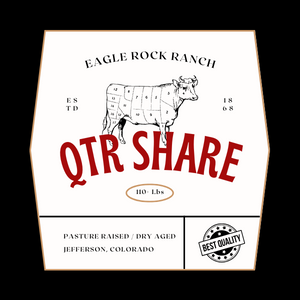 Enjoy a 17% savings!!
The Quarter Beef Share is perfect for the smaller family that doesn't have beef on their menu every night.  This share yields 110lbs of packaged beef.  The breakdown is approximately 40% ground beef , 25% premium steaks (Top Sirloin, NY Strips, Ribeye, Filet, etc.) and 35% roasts and other cuts (chuck roast, sirloin tip roast, short ribs).
This share includes a 1/2 brisket and a beautiful flank or skirt steak, depending on availability. 
We recommend at least 5 cubic feet of freezer space for a quarter beef.  A 6-7cubic foot freezer will allow for the 1/4 share as well as a few other things so this may be your best bet if you are purchasing a freezer for this purpose.
**READY OCTOBER 2023**
*Beef shares are available for ranch pick up.  We are also able to ship for an extra shipping fee.  If you would like us to ship your share, please contact us for pricing at erin@eaglerockbeef.com