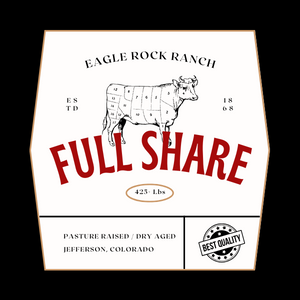 **READY OCTOBER 2023**
Enjoy a 25% savings!!
If you are a beef eating family, our whole beef is the best value for you!  When you purchase a whole beef, you are 100% control of the cut list and we are more than happy to assist you in the process.
The total packaged weight does vary by animal but typically our animals yield between 425 and 450 pounds of packaged beef.  We recommend at least 20 cubic feet of freezer space for a whole beef.
*available for Ranch pick up, Fairplay Store pick up, or Colorado delivery for a fee